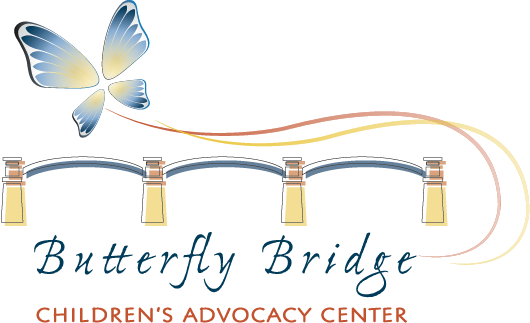 Butterfly Bridge Children's Advocacy Center (CAC) offers a safe, child-friendly environment to children victimized by abuse or neglect as it carries out the mission to provide restoration and justice in their lives.
The vision of Butterfly Bridge Children's Advocacy Center is that every abused child will receive the services, advocacy, and support needed to move beyond the abuse to a life full of possibilities.
The organization is a 501c3 non-profit and is the only CAC serving Chilton County. The CAC works closely with local law enforcement, Department of Human Resources, District Attorney's Office, and medical personnel in providing a collaborative response to child abuse investigations in order to decrease any trauma to the child victim.
The CAC provides highly specialized services to child and adolescent victims of abuse and witnesses to crime. All services are free. The services provided are:
· Forensic interviews at the request of local law enforcement and DHR
· Trauma-focused therapy
· Parent/caregiver support sessions
· Advocacy services throughout the life of the case in the criminal justice system
· Expert testimony
· Multi-disciplinary team coordination
For more information visit www.butterflybridgecac.org or call 205-755-4205.
National Hotlines and Helpful Links
National Suicide Prevention Lifeline
1-800-273-TALK (8255) [24/7 hotline]
1-888-628-9454 (Spanish)
1-800-799-4889 (TTY)
Disaster Distress Helpline [24/7 hotline]
1-800-985-5990
FINRA Securities Helpline for Seniors
844-57-HELPS
Identity Theft Resource Center
1-888-400-5530
MADD (Mothers Against Drunk Driving)
1-800-438-6233
National Alliance on Mental Illness
1-800-950-6264
National Center on Elder Abuse
1-800-677-1116
National Child Abuse Hotline
1-800-422-4453
National Domestic Violence Hotline
1-800-799-7233 or 1-800-787-3224 (TTY)
National Indigenous Women's Resource Center
406-477-3896
National Runaway Switchboard
1-800-786-2929
National Sexual Assault Hotline
1-800-656-4673 [24/7 hotline]

National Teen Dating Abuse Helpline
1-866-331-9474
1-866-331-8453 (TTY)
Parents of Murdered Children
1-888-818-7662
Office for Victims of Crime, Directory of Crime Victim Services