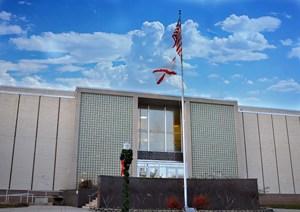 The main objective of the Courthouse Security Officer is to maintain a safe and secure environment for everyone in the building. Everyone's cooperation is needed in order to achieve this very important goal.
The Chilton County Sheriff's Office court security unit is comprised of 4 full-time deputies. This unit is comprised of law enforcement officers that screen courthouse visitors for weapons and provide security for the Circuit and District courts. The Chilton County Commission has established a written resolution banning weapons from the Chilton County Courthouse. The courthouse has limited access and signs announcing screenings for prohibited weapons in place.
When you enter the courthouse you will have to go through the metal detectors that are staffed by the Chilton County Sheriff's Office. In order for this to be an efficient process, here are a few guidelines that will help you as you enter the building:
No weapons of any type are allowed.
No knives, scissors or anything with a cutting edge may be brought into the
building.
No Cameras
Please remove jewelry (watches, large earrings, etc) before proceeding through
the metal detector. Place these items in your bags or place them in the
trays before you go through the metal detector. This will save you time and prevent you from having to be scanned a second time with a hand-held wand.
No aerosol containers (hair spray, shaving cream, etc.) are permitted.
No glass or plastic bottles (drinks, water bottles)

This procedure is done as a matter of safety. It is not meant to harass or exclude anyone. Cooperation is the key to maintaining a secure atmosphere for everyone in the building.
Courtroom Conduct
Cell telephones, pagers, portable electronic games, portable laptop computers, Blackberrys/PDAs, etc., are permitted in the courthouse, but MAY NOT be used in courtrooms without the permission of the presiding judge or in jury rooms during deliberations. These items are subject to a security inspection. No food, beverages, or chewing gum are permitted inside the courtrooms.
Please keep in mind you are entering a Courthouse; you should dress in an appropriate manner.